Cambodia has one of the highest maternal and child mortality rates in the world. Nothing prepares you for the stories about women and their babies who have tragically lost their lives due to complications in childbirth, many of which could have been prevented.
Like Sophie…in a rural village in Kratie, living in her dilapidated shack, Sophie went into labour with her first child. After many hours of no progress, the traditional birth attendants decided to transport her to the nearest health centre, which was two hours away. Tragically, by the time they got there it was too late, Sophie's baby did not survive.
A year later, Sophie was ready to give birth a second time. Again, she laboured at her home for many hours with no progress. The traditional birth attendants insisted the baby wasn't ready yet.
During her labour, Samaritan's Purse staff arrived in her village to do parenting training and provide supplementary food to malnourished children. They were told about Sophie and rushed to see her. It was obvious that the situation was desperate. Although they knew there was little time to save the baby, they took Sophie to the nearest health centre about 24 km away.
It was a difficult and uncomfortable journey and Sophie feared the worst. As soon as they arrived at the health centre, Sophie was attended to by three doctors who tried to get the baby out. They did everything they could but when the baby came, there was silence. The child had passed away.
"I felt so tired and had no more strength,"

Sophie said sadly
UNFORTUNATELY SOPHIE'S STORY IS NOT UNCOMMON, BUT THERE IS HOPE.
Sophie's traumatic experience is the reality for many women in remote rural villages across Cambodia. What should be the greatest joy of every woman's life becomes the greatest sorrow.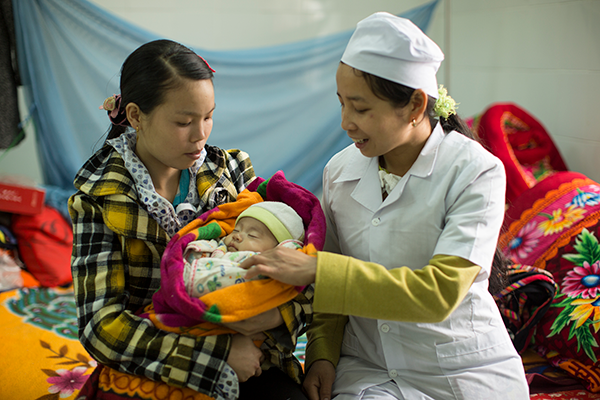 Samaritan's Purse is bringing hope, by building health clinics and providing health education and a range of targeted health services for women, children and families. The health issues of people living in poverty are extensive, and women and children are especially vulnerable. But by providing the right programs and facilities, we are improving the quality of life and well-being of whole communities.
Our programs that support prenatal and maternity care seek to reduce mortality rates of women and children. This is achieved by improving basic health services, training and mobilising local health workers, educating pregnant and lactating women on child feeding and nutrition, and training midwives.
Samaritan's Purse also builds maternity wards to give women in poor communities a safe place to give birth and mothers and babies can be saved from unnecessary death in childbirth.
When we equip local communities with the right health programs and facilities, change happens.
Your gift can enable Samaritan's Purse to continue running projects such as this to help thousands of women like Sophie to face childbirth with joy instead of fear.