OUR TEAMS ARE DISTRIBUTING SHELTER TENTS AND PROVIDING MEDICAL CARE IN THE AFTERMATH OF THE DEVASTATING EARTHQUAKES.
WATCH THE IMPACT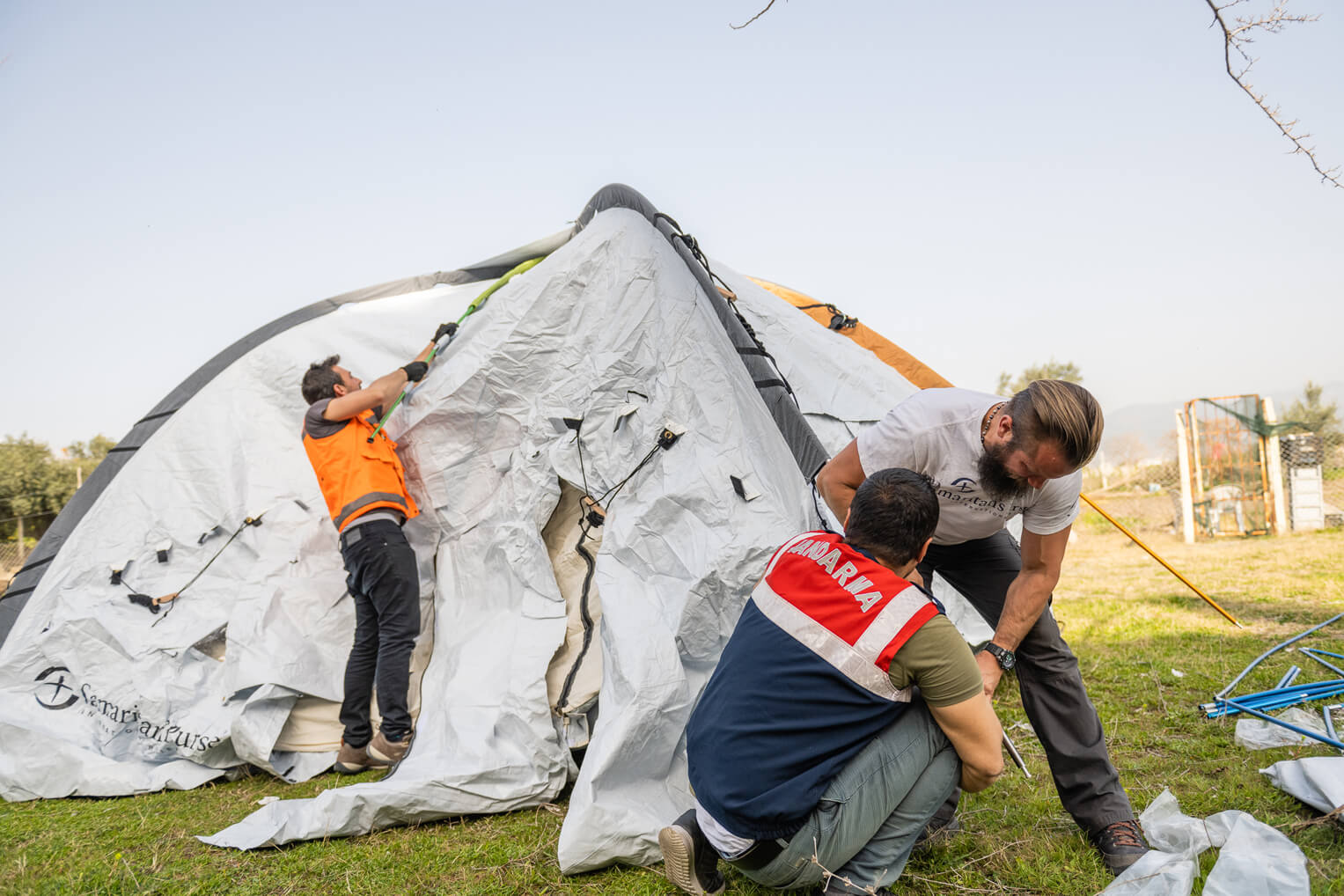 Providing Shelter for Displaced Families in Turkey
Mar 7, 2023
Beyza* and her family began sleeping on the street in front of their apartment building after it was badly damaged during the Feb. 6 earthquakes. A few weeks later, they were still living on the street—with no place else to go—when they met a Samaritan's Purse team who offered them an emergency shelter tent.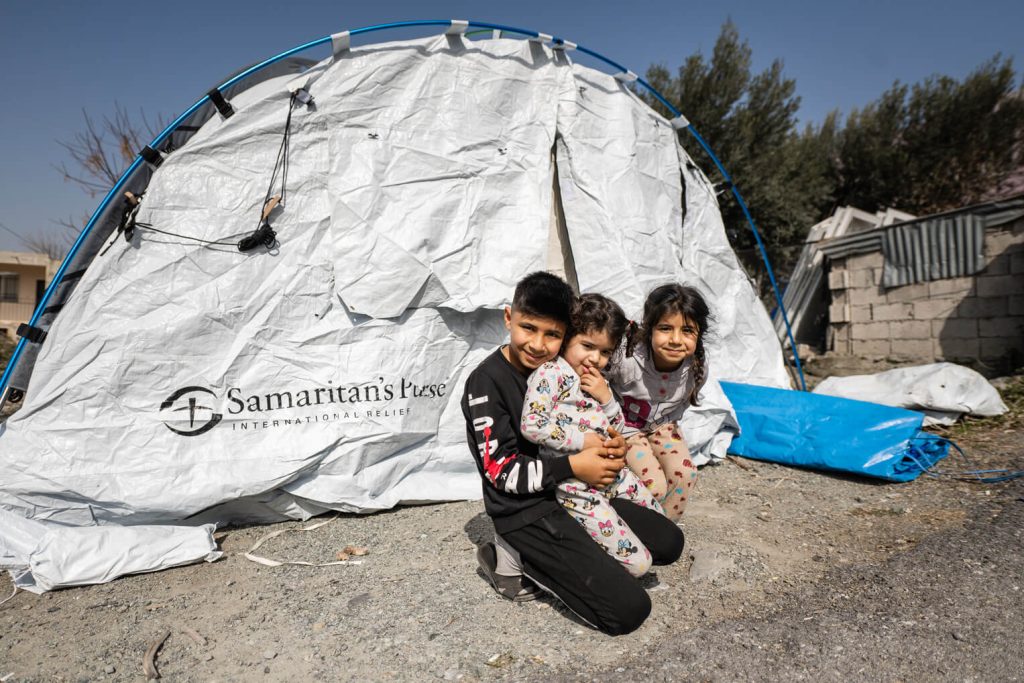 We're working with a local partner in Turkey to distribute and assemble tents for families. This emergency shelter is meeting an urgent need for those who are suffering and struggling to find a way forward in the disaster's aftermath.
"My daughter has been so scared after the earthquake. She won't stop crying," Beyza said.
Beyza, her husband, and their two daughters had no time to grab anything before escaping from their apartment. The building isn't safe for them to enter to try and retrieve any of their personal belongings.
Sadly, Beyza lost much more than a home. Both her parents, who lived in Antakya, died in the earthquake.
Beyza and her family live about an hour from Antakya in Dortyol, where her husband is a fisherman. To date, we have worked alongside our local partner to distribute 300 shelter tents for families in desperate need in the Dortyol region. We expect to provide hundreds more in the coming week.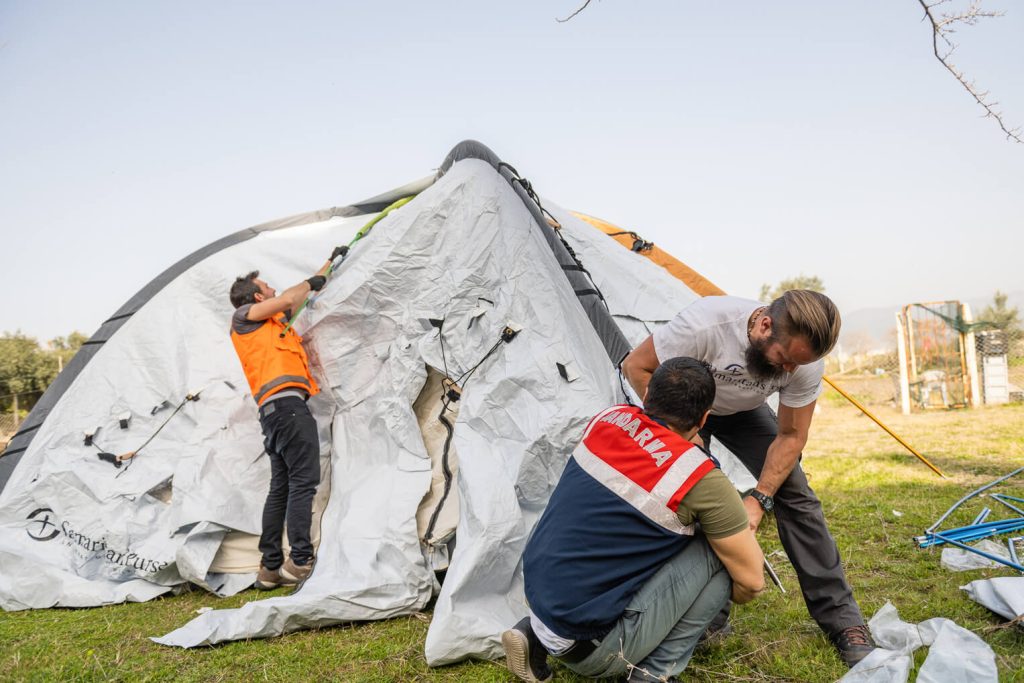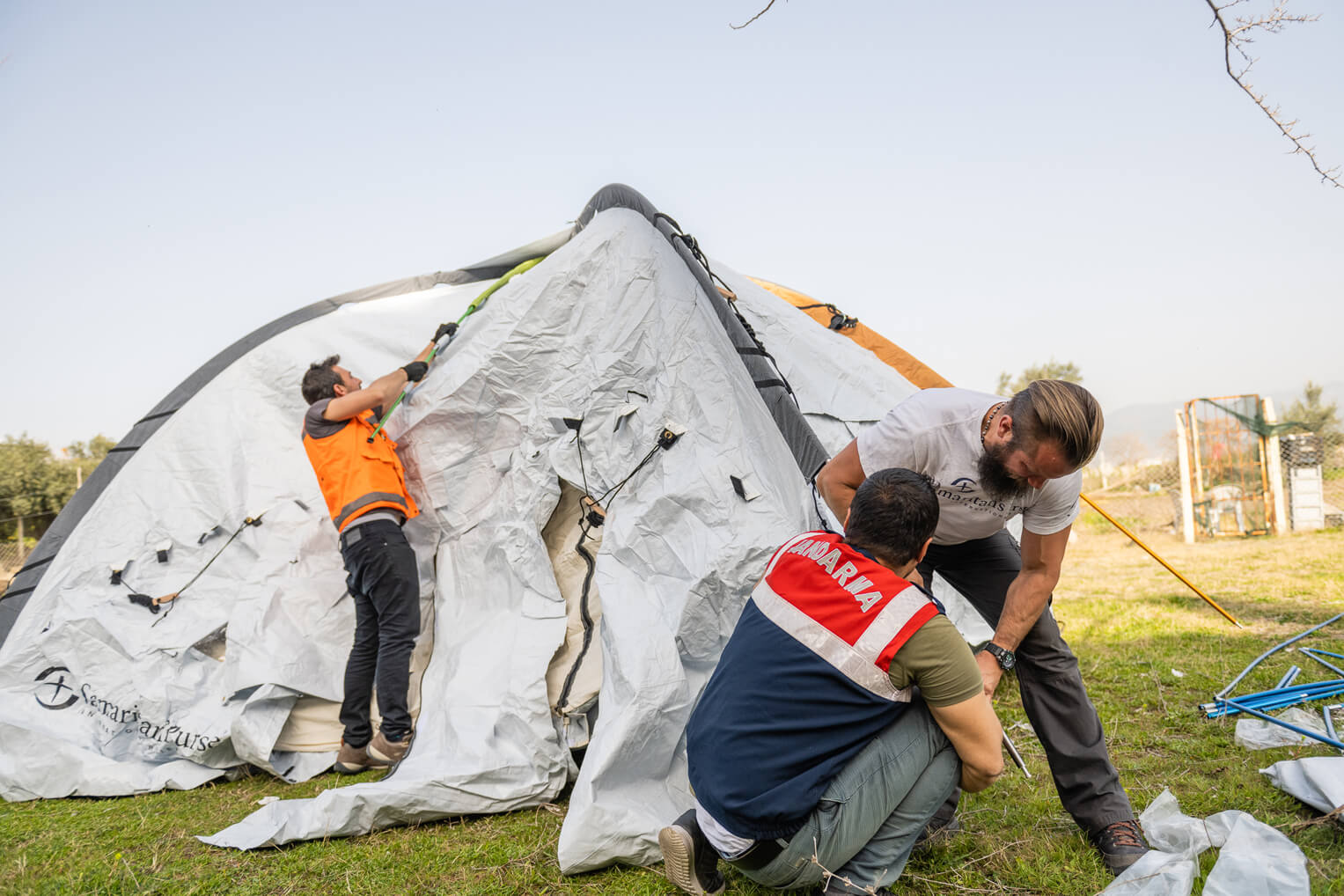 Our team also set up a tent for Ensar's* family in a grassy area near their damaged home. The family had been living in their car since the earthquake.
"Thank you very much for coming," said Ensar, who is relieved to be able to offer his wife and three children a safer place to stay.
Since a number of Ensar's relatives live in the same neighbourhood and are also dealing with damaged or destroyed homes, he didn't know anyone who could take in a family of five.
Without the shelter tent from Samaritan's Purse, "we would still be living in the car," Ensar said.
Medical Care Continues in Antakya
In addition to distributing shelter tents, our work is ongoing at our Emergency Field Hospital. We've cared for 3,600 patients since opening on Feb. 13.
Sare* came to us because she injured her leg after jumping out of a window during the earthquake. "I was afraid the house was going to collapse on my head. I had to run away as soon as possible."
She was in so much pain that she couldn't move her body at all. She stayed on the ground until her husband found her and helped get her in their car.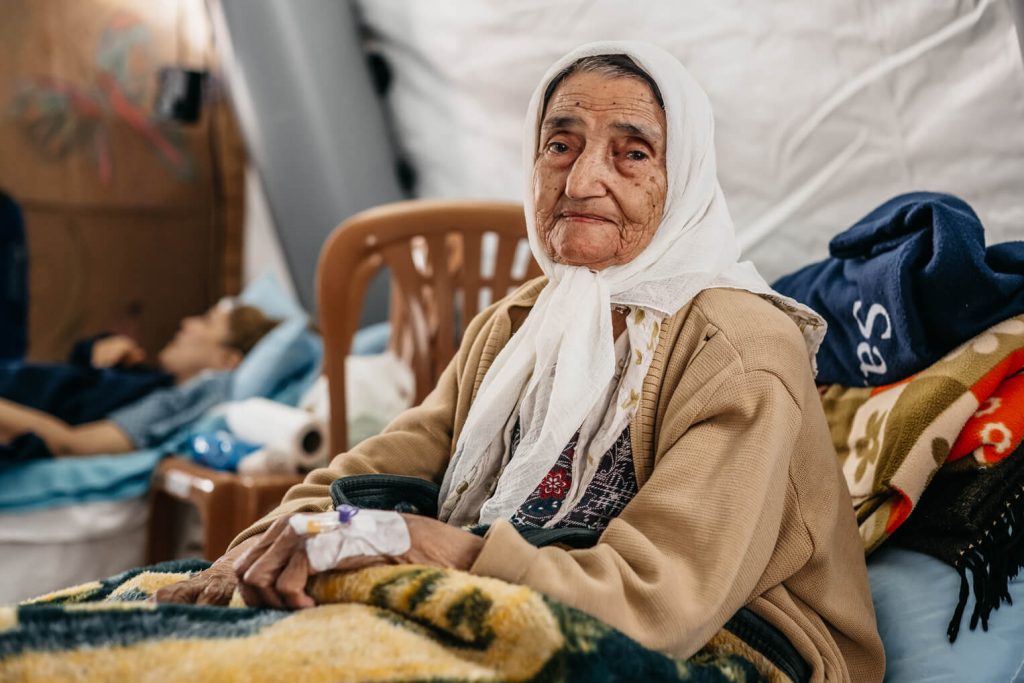 The Samaritan's Purse medical team put Sare's leg in a cast and cared for her for several days in the patient ward. "Everyone here is so nice and kind with me," she said. "You are very warmhearted. I'll never forget you."
We're caring for many patients who have developed respiratory problems from sleeping outside in the cold and being exposed to dust, smoke, and other allergens. Ikra*, 93, stayed in our ward for several days because she had pneumonia.
Ikra left Antakya and went to live with family in a nearby city after her home was destroyed in the earthquake. Yet, after only a few days, she returned to the city where she grew up and has always lived because "my heart is here," she said.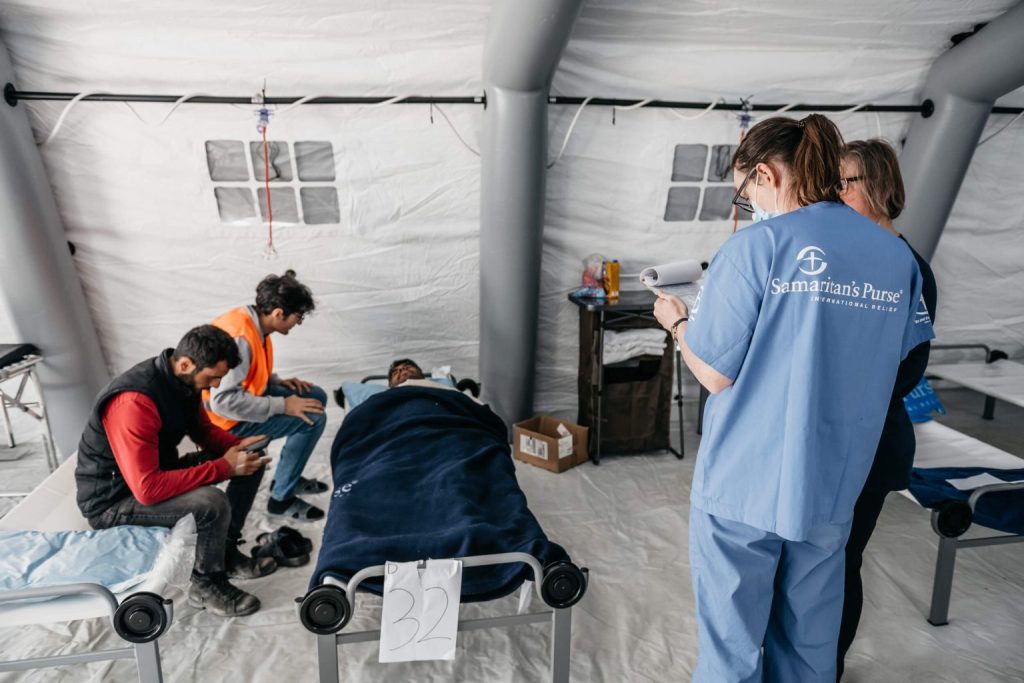 Our team is also treating patients like Ismail* who need medical care for issues and injuries not sustained as a result of the earthquakes. The earthquakes have disrupted the operation of standard medical facilities in the region, making our hospital an important resource.
Ismail arrived at our facility in critical condition and with nowhere else to go for medical care. "I was very afraid," said Ismail's son, Eren*. "We visited other hospitals but they said they had no doctors—they had died in the earthquake or had to leave with their families."
Our staff quickly discerned that Ismail was experiencing intestinal blockage and there was no time to waste—he needed surgery that day or he could die.
Once in surgery, the medical team discovered that Ismail needed an emergency appendectomy. The procedure went smoothly and he is expected to make a full recovery.
"You came from thousands of miles away to help us," Ismail said. "We are so grateful for you."
Please pray for the people who are suffering in Turkey. Pray for our team on the ground, totaling almost 100 members; they continue to faithfully serve in Jesus' Name in challenging conditions.
*Name changed.
SUPPORT OUR WORK
Your gift today can help us support victims and survivors in Turkey and Syria.