Franklin Graham dedicated our Airlift Response Centre in Greensboro, North Carolina, USA, on September 26, signalling our growing capacity to rush relief worldwide in Jesus' name.
Samaritan's Purse President Franklin Graham and key US based staff members gathered with special guests on Sept. 26 to prayerfully dedicate our new Greensboro Airlift Response Centre in North Carolina.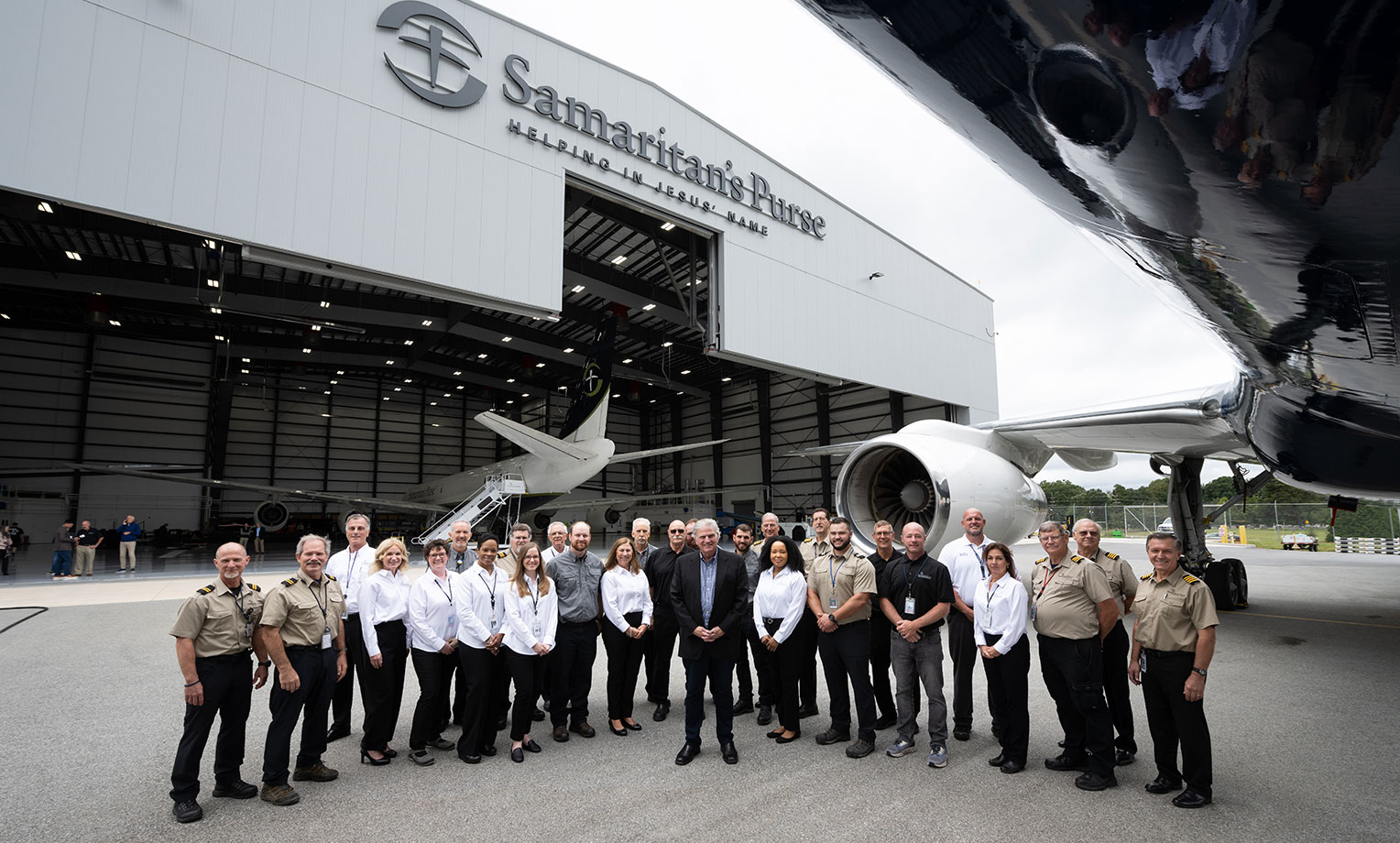 FRANKLIN GRAHAM JOINED AVIATION STAFF, KEY STAFF MEMBERS, AND SPECIAL GUESTS TO DEDICATE OUR NEW GREENSBORO AIRLIFT RESPONSE CENTRE IN NORTH CAROLINA.
The nearly 6,000 square metre facility will house our newly commissioned Boeing 757 freighter and our Douglas DC-8 combi jet, a long-range workhorse that's flown more than 185 missions to 55 countries, airlifting more than 3.6million kilos of cargo since 2016.
"We want to be able to respond immediately," Graham said. "The quicker we can get there the better, because we can save lives with resources like our Emergency Field Hospital.
"Everything we have comes from God, and so we give God the glory. We want to thank Him for giving us this facility, so we are here today to dedicate it to Almighty God for the glory of His Son Jesus Christ."
Approved in August for flight by the Federal Aviation Administration, the 757 has already returned from its inaugural mission—to Maui, Hawaii, where we airlifted more than 21,000kg of relief supplies and personnel in the aftermath of deadly wildfires on the island.
Former US congresswoman Tulsi Gabbard joined Graham at the dedication in Greensboro to offer words of gratitude and encouragement for the work of Samaritan's Purse following the disaster in early August. Gabbard, who served Hawaii's 2nd District from 2013 to 2021, became familiar with our work following our May 2018 flood response on Kauai.
FORMER CONGRESSWOMAN TULSI GABBARD ATTENDED THE DEDICATION IN GREENSBORO TO OFFER WORDS OF GRATITUDE AND ENCOURAGEMENT FOR THE WORK OF SAMARITAN'S PURSE.
"Aloha, I'm so grateful to have the privilege of being able to be here and to celebrate the great work and blessings Samaritan's Purse brings around the world," she said. "I can't thank Samaritan's Purse enough not only for the materials they brought on the plane to Hawaii, but also for the hope they brought with them."
Veteran TV news journalist Greta Van Susteren, also attended the event, sharing stories from her firsthand experiences with Samaritan's Purse in numerous countries.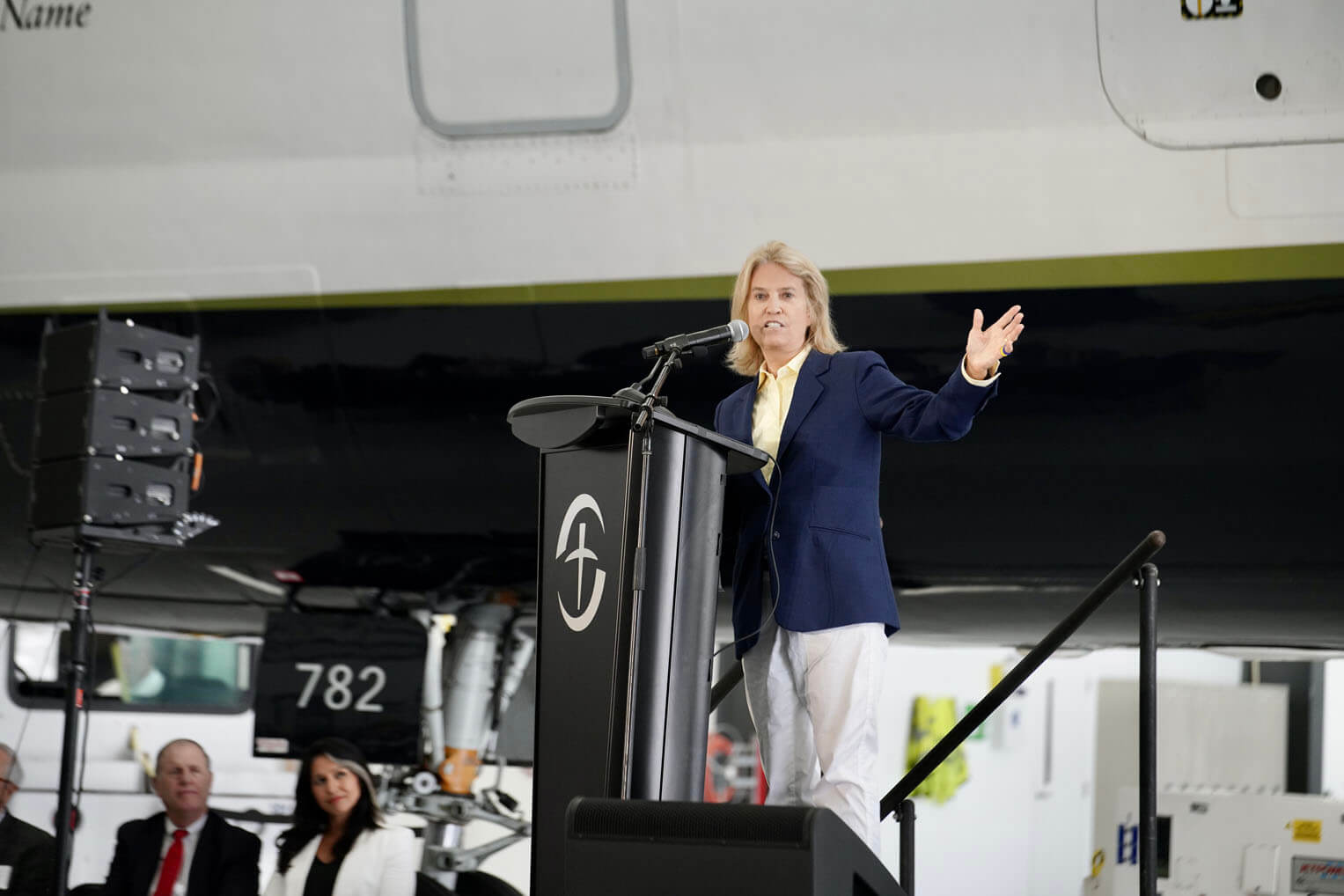 GRETA VAN SUSTEREN SHARED STORIES FROM HER FIRSTHAND EXPERIENCES WITH SAMARITAN'S PURSE IN NUMEROUS COUNTRIES.
"I've been all over the world with Samaritan's Purse," she said. "It is so unlike any other organisation. It's not only about meeting the physical needs, they're there helping in the Name of Jesus to tell people they're not alone."
The Mission Aviation Services arm of Samaritan's Purse enables our relief work in some of the world's most remote locations. In addition to the DC-8 and 757, our fleet includes 22 smaller planes and helicopters, many of which are positioned with crews in Africa and Alaska.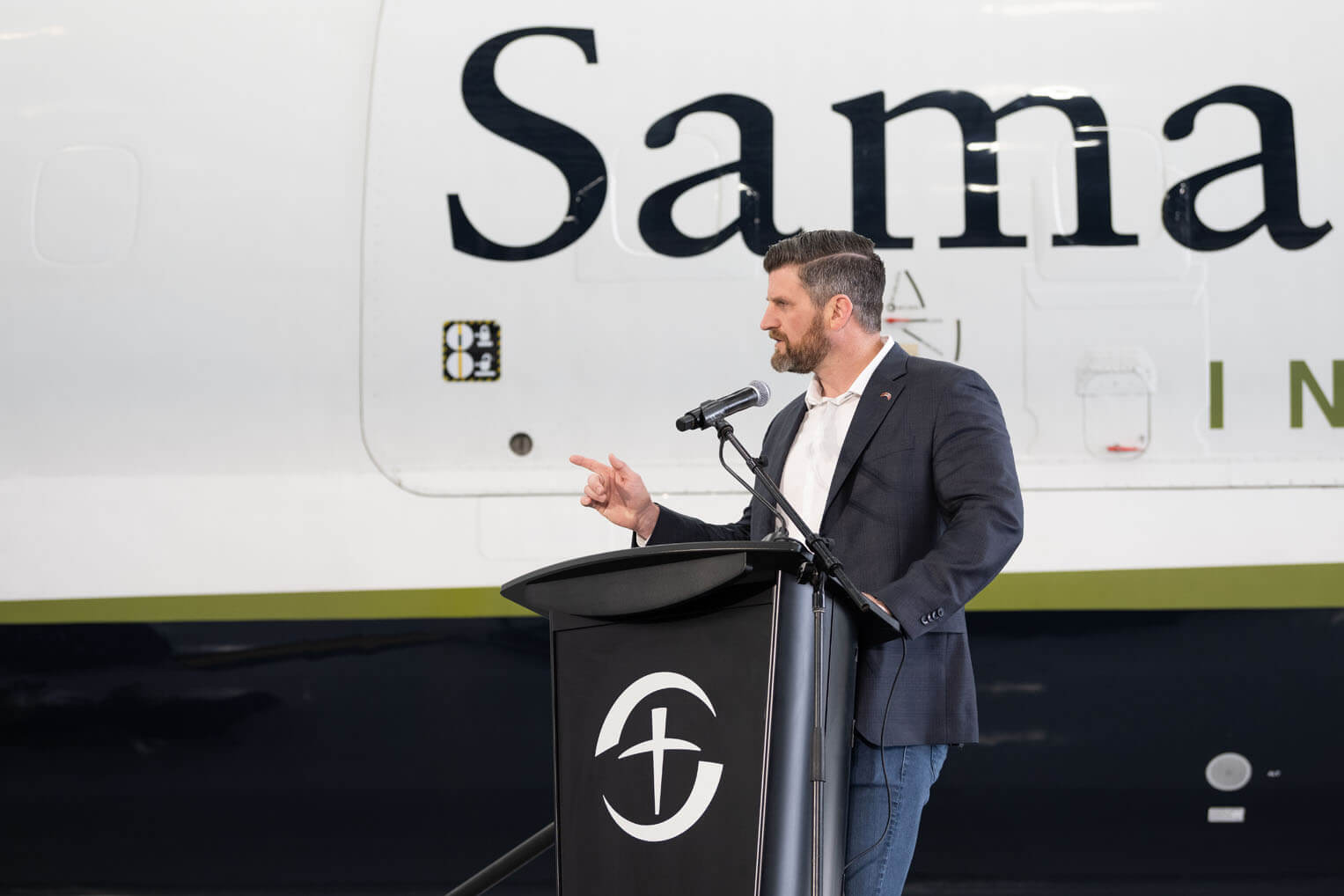 EDWARD GRAHAM, COO AT SAMARITAN'S PURSE, EXPRESSES GRATITUDE FOR THE RESOURCES THAT HAVE STRENGTHENED OUR LONG-RANGE GLOBAL RELIEF RESPONSES.
The addition of long-range cargo aircraft has resulted in greater immediacy on our relief responses, allowing for next-day deployments and multiple back-to-back airlifts if needed. This speed and capacity provides the necessary agility to respond at a moment's notice. This was of critical importance during our 43 airlifts to
Ukraine
carrying relief supplies, emergency field hospitals, and medical teams and equipment to the war-torn region.
"We are blessed to receive these resources you see behind me: the planes, the hangar. These are all from the widow's mite," Samaritan's Purse COO Edward Graham said at the dedication. "People give what they can to support the ministry of Samaritan's Purse and it's not about charity…it's about showing the love of Jesus Christ."
Praise God for the work He is accomplishing around the world through Samaritan's Purse and our local church partners. We give thanks to Him for the aircraft and other resources He has provided so we can help in Jesus' Name. Please continue to pray for Samaritan's Purse, for open doors to serve and show God's love.