Hai and his wife are raising their two grandchildren in a small village in Vietnam. Their daughter works in a factory away from home because she is unable to find a job in their community.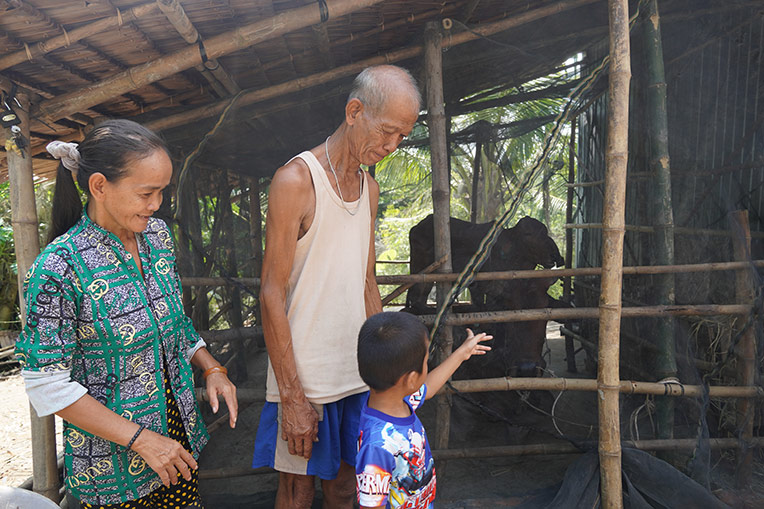 "Before COVID-19, I picked up odd jobs to make a living," Hai said. "During the pandemic years, my family faced many difficulties. I was unemployed, and my family had to rely on the subsidy of the local temple and food given by my neighbour."
Samaritan's Purse is implementing a livelihoods project on cattle raising, financial management, and business planning to support struggling families like Hai's. In the first phase of the project, beneficiaries receive cows and training on how to raise them. They learn about cow shed construction, grass planting, and disease prevention. Families also receive grass seedlings and shed construction materials.
These beneficiaries then donate a cow's offspring to families who will participate in the project's second phase. This model allows households to encourage one another, build their livestock trading network, and share information about agricultural techniques.
Hai's family was among the households selected for the first phase of the project. During the training, Hai learned how to grow nutritious grass and build a cow shed. "With simple instructions, the training was quite easy to follow," he said.
"The training was quite easy to follow."
Hai is particularly mindful of his responsibility to make sure that the calf he transfers to another household is healthy. "I have to help others like myself, and I want to leave a good reputation," he said.
Hai and his wife plan to raise the cows they received to full maturity, continuing the cycle of raising and breeding them for income that's critical to their family's survival. "We will also save money to buy medicine when we get sick," he said.
A Family in Need
Like Hai, Chua also had a hard time providing for his family during the global COVID-19 health crisis because he could not find work. He borrowed money to try raising chickens, but without any knowledge of breeding and disease prevention, his poultry died after a few months.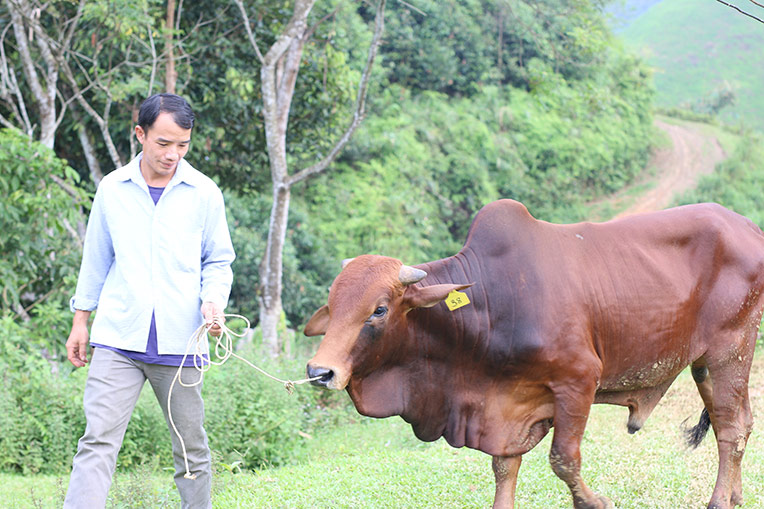 "I failed in raising the animals, and my investment became a debt," Chua said. "We could no longer afford meat or fish. Our children searched for wild fruit on the way to school."
Chua and his wife, Giang, were also unable to send money with their two sons to buy lunch at school. They didn't know how to help their struggling family.
The couple was thrilled when they learned that the Samaritan's Purse cattle raising project was coming to their village. "I had never dreamed of owning a cow because it was out of my financial reach," Chua said. "The project exceeded my expectation and equipped me with a solid foundation in sustainable animal husbandry."
Giang is grateful to our teams for helping her family during a time of critical need.
"It's been a long time since I've seen Chua smile so much. He won't have to work away from home anymore," she said. "My family is very lucky. Thank you, Samaritan's Purse, for your kind support."
Please pray for our staff in Vietnam. Pray that the families participating in this project will come to know God's love for them.
Your gift can enable Samaritan's Purse Australia to continue working with impoverished families like Chua's around the world to improve their livelihood, combat natural disasters and break free from poverty.