Millions of people in poor communities have never had access to a dependable source of clean water. Families are forced to use contaminated water for cooking and drinking. They often get very sick as a result, but they don't have another choice.
The daily struggle for clean water is a matter of life and death. Giving clean water is a tangible expression of God's love and provision, and we thank you for your faithful prayers and support as we meet this urgent need and share the eternal hope of Christ. "If anyone thirsts, let him come to Me and drink. He who believes in Me, as the Scripture has said, out of his heart will flow rivers of living water" (John 7:37-38).
VIETNAM – Surviving Drought in Rural Vietnam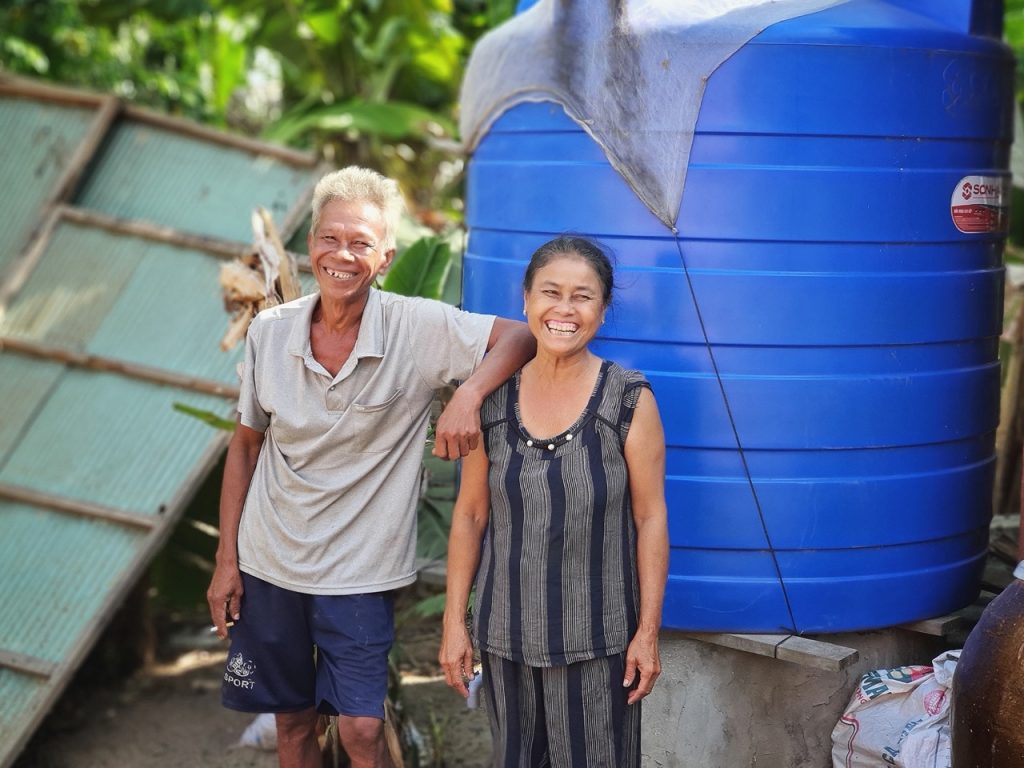 Thach Danh is from Cau Ngang district, Tra Vinh Province. In order to provide for his wife and children, Danh works on construction sites as a site labourer which often takes him away from his home in rural Vietnam for months at a time to work in major cities for little pay.
His family lives in a shed surrounded by farming fields far from any main roads and without access to electricity and running water. He was fortunate enough to run a makeshift powerline from his neighbour's house to provide enough electricity to power a water pump and a handful of light bulbs.
Unable to afford a water storage tank, Danh would collect and store rainwater in pots beside his house during the rainy season to sustain his family through the drier months. They rely on rainwater for drinking and cooking, and a small borehole pump to supply water for bathing and sanitary use.
Each year, severe drought and saltwater intrusion in the Mekong Delta significantly impacts thousands of vulnerable families like Danh's who aren't connected to the municipal water pipeline. "In previous years, the rainwater we stored would run out in the dry season and at times, the pump couldn't pump enough for us to use," Danh said.
In March 2021, in response to severe drought in the region, Samaritan's Purse launched Project Genesis to distribute water tanks, hygiene kits and storage cans benefitting 160 families in Tra Vinh Province amidst the water shortage. "Thank you for giving us this tank. We could never afford one ourselves," Dahn said.
Later that year, his wife attended training provided by Samaritan's Purse to become more educated on water storage and prevention of water-related diseases. She applies the knowledge to keep the tank clean. "I flush and clean the tank every six months," she said.
In April 2022, Samaritan's Purse returned to Danh's home and learned that he had installed a rainwater catchment system to enhance the storage tank he was given. His system includes a fabricated metal collection trough and a net to filter out debris. This simple addition helped them collect enough rainwater to filter for drinking and cooking throughout the year.
Although the main road near Danh's home is yet to be built, he now has enough water to sustain his family through the annual dry season. As part of Project Genesis 41, over 600 families received access to water through water pipelines and rain catchment systems.
We praise God for what He has done in Danh's and many other's life. We pray that many more families around the world will receive the gift of clean water and the eternal hope of salvation in Jesus Christ. "I have come that they may have life, and that they may have it more abundantly" (John 10:10).
---
PHILLIPINES – "Without Water, Life Would Be Impossible"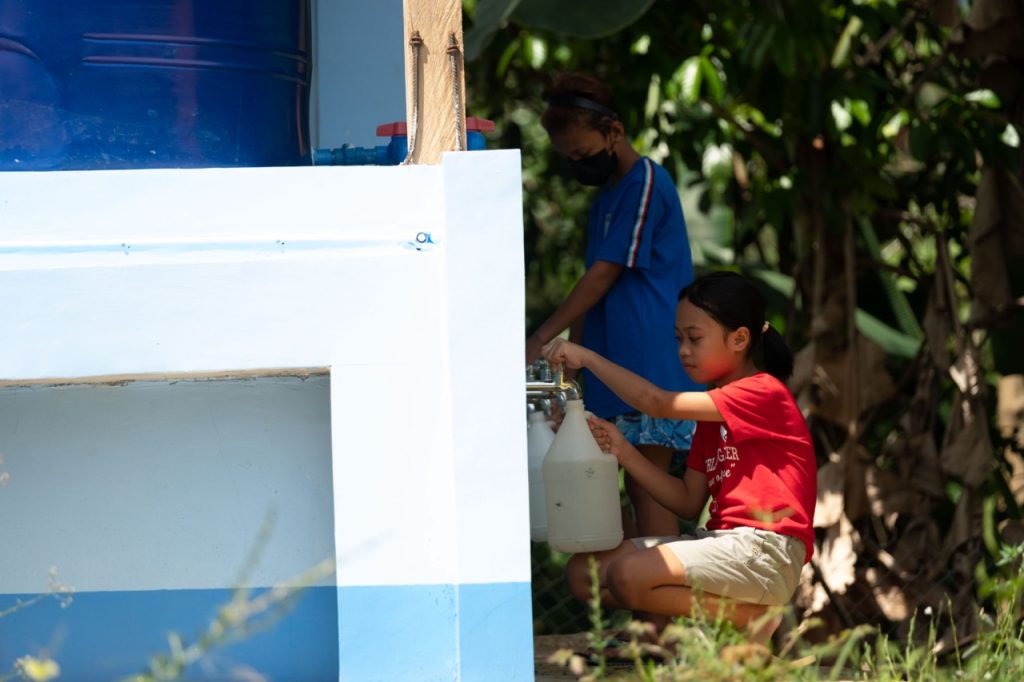 Enormous blue containers tower over Abby* (bottom left) as she kneels in their shadow. They're like massive bodyguards, standing watch over the 10-year-old, protecting her—which is what they do by filtering and storing water that is safe for her to drink.
With the simple twist of a metal knob, Abby waits as a friendly rush of clean water gurgles through the pipes and joyfully splashes out into her empty jug.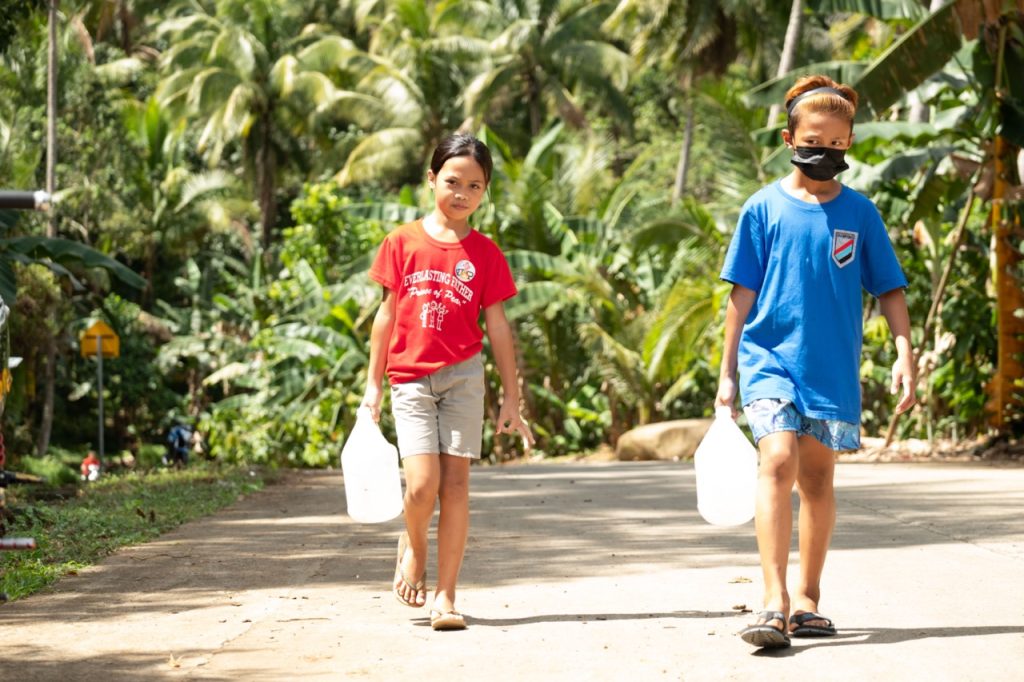 But it wasn't always this way. "I was hospitalised," she confides, "for five days."
Abby is reflecting on a time when safe water wasn't available, and she isn't alone. Drinking disease-ridden water hurts tens of thousands of children in the Philippines—especially in rural areas—and millions worldwide. The impact is staggering. Already-limited incomes are stretched to breaking because ill parents can't grow food or work. Sick kids are chronically in and out of class—robbed of an education.
In the worst-case scenarios, water, sanitation, and hygiene-related illnesses take the lives of the most vulnerable—usually children under five. It happens about twice every minute. It could have happened to Abby.
"Undeniably, without water, life would be impossible," said Mr. Ramos*, Abby's school principal. "Everyone needs safe water, clean and safe water."
Mr. Ramos wrote a letter to Samaritan's Purse after our partner installed a large-scale water filter and handwashing stations at the school.
"The presence of the [large] BioSand Water Filter gives delight not only to the school, its teachers, parents, and learners, but to the whole community," he said. "I cannot believe that the thing I have been dreaming of—having this kind of water facility in our school—would come into reality. I am forever grateful to Samaritan's Purse for this project and to the individuals who were instrumental in its realisation."
Those individuals are donors like you who give and pray so that Abby, Mr. Ramos, and thousands of others in the area have safe water and improved sanitation and hygiene, given in Jesus' Name. We are working this year to bring safe water to five more schools in Mindanao.
For Abby, the safe water will "help us to have good health and immunity," she says as she dreams of one day becoming a teacher. "I want to help children," she shared. It's your gifts that give kids like Abby the opportunity to play, learn, grow up, and become who God calls them to be. Safe water is key.
---
Your prayers and partnership today can help make a difference for an individual, family or even an entire village! Consider a one-off or monthly partnership and join our mission to see lives remarkably changed through clean water!